---
Print Statements for each contributor at any time desired (e.g., Monthly, Quarterly, Annually, and so forth). Refer to Modify > Statement Design to customize a predefined statement format.
This Section Includes:
Filters allow you to reduce the number of entries that appear on the report. Select from the following fields to filter your report.
•Begin Date: Choose the begin date.
•End Date: Choose the end date.
•Individuals To Print: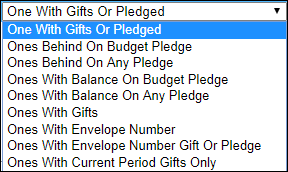 ---
NOTE: The "Budget Pledge" uses the purpose in column 1 on the Columns tab to determine the pledge amount.
---
•Tag:
oExclude?: Excludes selected Tags.
•Minimum $ Amount: Include donors that have given at least this amount in the calendar year from January 1 through the End Date.
•Base Minimum $ Amount on Date Range?: Include donors that have given at least this amount from the Begin Date through the End Date.
•Pledge Due at End of Period?:
•Include Anonymous Gifts?:
•Run Sample of Only 10?:
The Options tab allows you to change the appearance and set the sort order for your report.
•Statement Date:
•Sequence For Statements: Name, Postal Code, or Envelope Number
•Format Gift as Currency?:
•Email Statements?
Send Statements without PDF Security?
Send Email To All Addresses On File?
•Email Message:
•Header Comment:
Header Comment Only on First Page?
•Footer Comment:
Footer Comment Only on Last Page?
•Memo:
The number of columns allowed depends on the statement design. You can specify the column headings and then choose the Purposes to include in each column. All purposes not designated to a particular column are displayed in the Other column.
1. Choose the Column 1 - 9 and type a Name (e.g., Missions).
| | |
| --- | --- |
| | The Column identifier (1 – 9) indicates which physical column of the statement the amount is to print in. If you leave these headings blank, the headings that you set up in Modify Statement Design will be used. If you have a purpose that has both tax deductible and non-tax deductible gifts and want them to print in separate columns, then leave these columns blank and set them up in Modify Statement Design. |
2. Repeat for each Column.
3. Print pledge on statement? Yes, No, Yes With Balance
4. Include prior year(s)?
5. Include only if pledge exists?
6. Select the column for each of the Purposes by clicking the appropriate check box(es) in the grid.
Click the Run Report button to generate a preview of the report.
•Click the Clear Preferences link to reset all of your report preferences to their default values.
•Click the Close Report button to return to the dashboard.
The report displays on the Report Preview page. Refer to the Report Preview help page for more information.