---
MinistryID gives you access to multiple applications using one credential. Now, you can use the same login and password for your Shelby Financials platform, giving platform, church management software, forms, and other systems where you see the MinistryID logo.
This feature is also available to your church community. Now, those who participate in MinistryID can use single sign on (SSO) for a variety of purposes such as child check-in, making donations, and registering for events.
A User Name and Password is required to login. Check with your local administrator if you need login credentials.
See Security Setup to add users,define task rolls, and account right rolls.
See Utilities > Organization > Security Setting to further define advanced security settings for you organization.
Login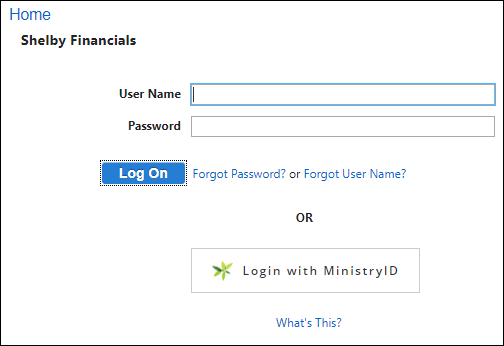 After clicking the Log On button, use your email address and password to access your account. This will automatically login the user into any other software that uses the MinistryID login system. For example: Logging into the database will automatically login the user to the Giving portal if their account is linked (login/link instructions) when in the same browser.
Account Linking Process
If no MinistryID has been created yet, use the 'Create one' link to get started with the process.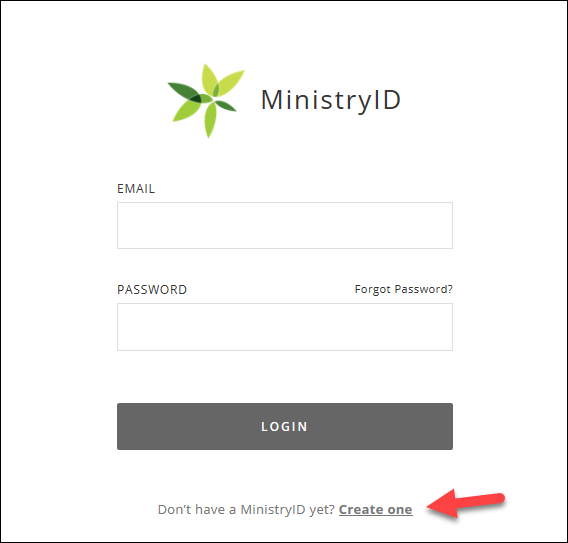 Create your new login by entering the email address and password MinistryID you will use.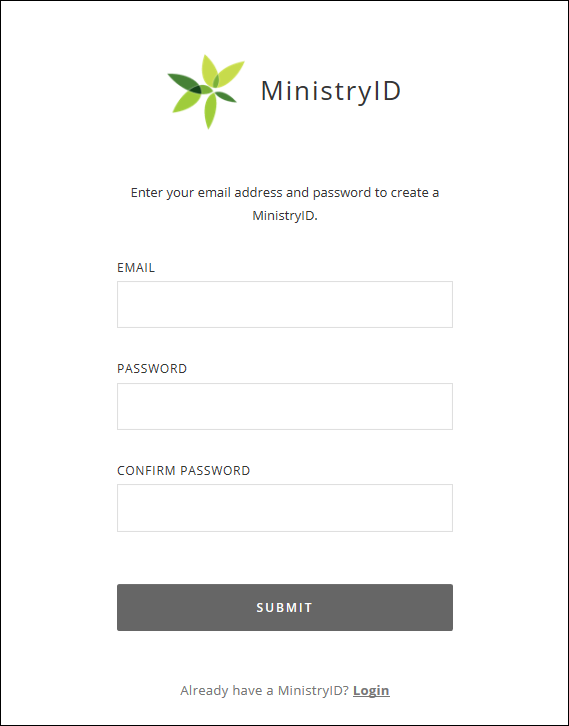 The password requires at least 7 characters. It should include numbers along with upper, and lowercase letters.
The next prompt will ask the user to enter their existing login credentials to link their profile.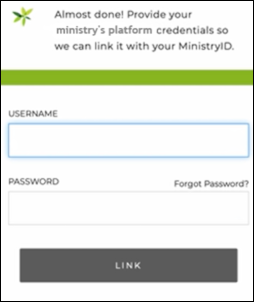 After a successful link, the member will be notified of the process being completed.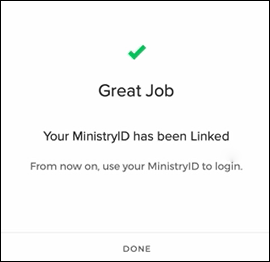 How do I change my MinistryID username?
This function is coming in the near term for users to change on their own. At the present moment, if a user login email change needs to happen, simply contact our awesome Support Team to make the change for you or create a new MinistryID for the person needing the update. Then link the profile again for the user.
The Reset Password function allows you to obtain a temporary password if you know your user name. Click the Forgot Password link on the MinistryId login screen.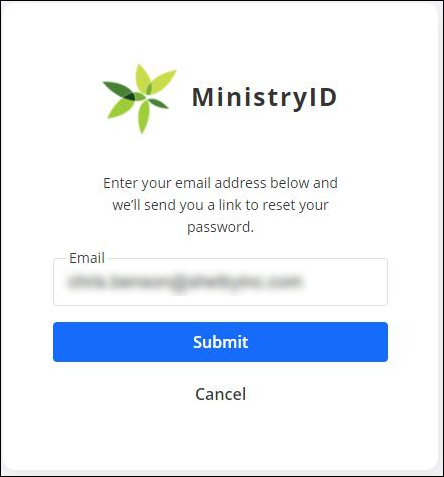 Enter the email associated with your user account in the Email field and click the Submit button. You can also click the Cancel link to return to the MinistryId login screen.

The email you receive contains a link to reset your password.