---
The Pledge File List report allows you to print lists of contributors that have made a pledge along with pledge balances, contributors that have not pledged, those who have pledged and not contributed., or other combinations of contributors and pledgers. The array of options available in this report gives the user a flexible and powerful tool for giving and pledge analysis, as well as information that can be useful in stewardship drives.
This Section Includes:
Filters allow you to reduce the number of entries that appear on the report. Select from the following fields to filter your report.
•Report Format: Full, Summary, or Comparison
•Pledges to Print: Choose the pledges to include from the drop-down list, Actives, Inactives, or All.
•Pledge Begin Date: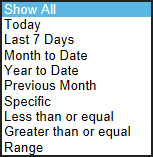 •Pledge End Date: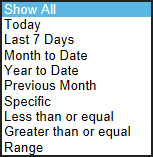 •Contributors: All, Contributors, or Non Contributors
•Pledgers: All, Only Pledgers, With Non Pledged Giving and Non Pledgers, or Only Non Pledgers
•When Are Pledges Due: Beginning of Cycle, or End of Cycle
•Select Only Those With Balance?:
•Select Only Those Behind On Pledge?:
•Frequency: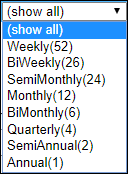 •Calculate Percent: Total Pledge, or Pledge Due
•ACH: Show All, ACH Only, or No ACH
•Print Only Subdonors?:
The following tabs are available when the Full or Summary Report Format is chosen:
Purposes Tab: Select the purposes to include.
Motivations Tab: Select the motivations to include.
Projects Tab: Select the projects to include.
The following filters are available for the Comparison Report Format:

The Options tab allows you to change the appearance and set the sort order for your report.
•Change Appearance? Check the box and then choose the Font Type, Size, and Percent.
•Export Option: Choose Name or CSV.
•Sort By: Name, Dollar Amount, Purpose, or Purpose Dollar Amount
•Print Address?:
•Descending Sort?:
•Print Blank Line Between Names?:
•Print Envelope Number Instead of Name ID?:
•Print Setup Information?:
•Print Notes:
Click the Run Report button to generate a preview of the report.
•Click the Clear Preferences link to reset all of your report preferences to their default values.
•Click the Close Report button to return to the dashboard.
The report displays on the Report Preview page. Refer to the Report Preview help page for more information.