---
The Time Off Hours report allows you to print information about Time Off Hours set up and usage.
This Section Includes:
On the Filters tab select the Check Date. Additional date filters may appear depending on what option you choose.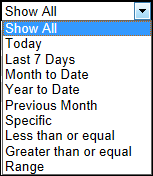 Select which Time Off Type(s) you wish to report on and then select which (or all) employees to report on using the Employees filter. Alternately you can use the Home Department filter to run the report on all employees within certain Home Departments. If this method is used you can further refine your selection by using the Employment Status and Work Status filters. If you are selecting employees directly using the Employees filter the Employment Status and Work Status filters are inactive.
On the Options tab select your Report Type. For the Summary report you also need to select which Report Options you want to print. Select at least one of the following options: Print Available Hours, Print Used Hours, Print Remaining Hours, and Print Maximum Hours. The Summary report displays one line for each employee with columns containing the selected information for each Time Off Hours type.
The Detail report displays all checks within the date range specified and the Time Off Hours Scheduled and Used for each. Select Summary and Details to print both sets of information.
---
NOTE: Although the Details section is filtered by the Check Date range, the Summary section (Avail., Used, Rem., & Max.) comes straight from Employee Information > Time Off Hours, and the end date of the Check Date range dictates the Time Off Starting Date used.
---
Click the Run Report button to generate a preview of the report.
•Click the Clear Preferences link to reset all of your report preferences to their default values.
•Click the Close Report button to return to the dashboard.
The report displays on the Report Preview page. Refer to the Report Preview help page for more information.